Synergie humaine et animale dans l'épique africain et occidental : de la conflagration actorielle au mécanismes d'identification par le jeu des symboles
Abstract
The African and western epic production is very often build on the basis of human and animal cohesion. These two entities multiply the nature of theirs relations which materialize in confrontation, in assimilation and in utilitarism. This holistic trade is, by excellence, a means of assertion which signifies total natural dependence between mankind and animal, and mainly attests that large differences and oppositions can be born a symphony and a universal balance.
Keywords
cohesion, confrontation, identification, utilitarism, universal balance
Refbacks
There are currently no refbacks.
DOCT-US
ISSN: 2065-3247
------------------------------------------------------------------------------------------------------------------------------------------------------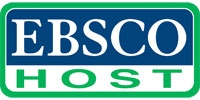 ------------------------------------------------------------------------------------------------------------------------------------------------------
Publicaţie periodică finanţată prin
Proiectul POS DRU "Doctoral Burses at USV",
Contract de Finanţare POS DRU/6/1.5/S/22